Stories of Resiliency, Equity, and Hope
2021 marks the 57th year since the Community Action Network was established to help minority communities overcome obstacles to poverty. This year, we celebrate Community Action Month honoring families and their stories of perseverance and courage during this disruptive and difficult pandemic year. As we collect, document and share the obstacles families have overcome, lessons learned, transitions and transformations, honoring remarkable tenacity and resilience, we encourage you to Share Your Story!
Stories of Community Strength & Resilience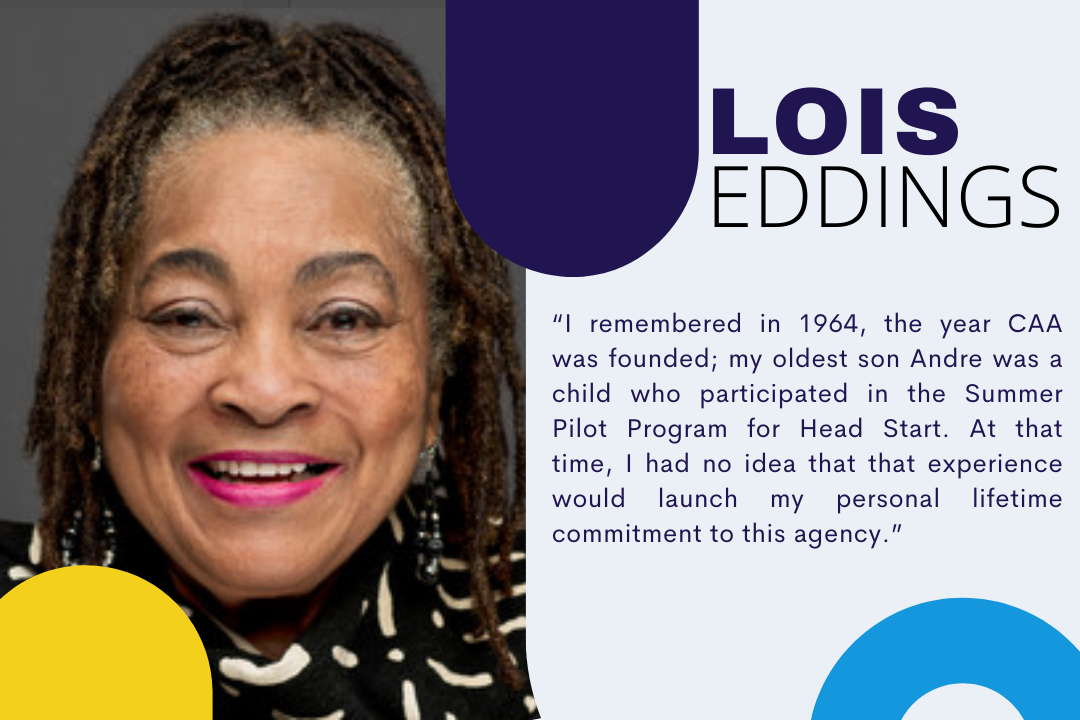 The Humble Life Long Learning Works of Lois Eddings
What a life it had been at CAA for Ms. Lois Eddings. For 51 years, she humbly taught our children and fulfilled our mission.
Her time with the Community Action Agency allowed her to provide for her own children and become a nurturer to many more throughout the Greater Cincinnati area. She recalls, "I remember in 1964, the year CAA was founded; my oldest son Andre was a child who participated in the Summer Pilot Program for Head Start. At that time, I had no idea that that experience would launch my personal lifetime commitment to this agency."
Ms. Lois was honored to work with a program created to provide children an early advantage while pursuing their educational journey. The skills and strategies that she instilled afforded them beautiful opportunities to grow mentally, emotionally, and physically.
She watched children make important vocabulary, spelling, word recognition, and behavioral and social developmental advancements during their time in our program.
Over the years, she saw many changes put in place to raise the standards and expectations of our centers, teachers, support staff, and all involved. "Our mission, centering on improving lives from cradle to career, has been the foundation of the holistic approach I embodied during my past five decades here...If not for such a strong sense of community, opportunity, solutions, entrepreneurship, and goals, I do not believe I could have survived the test of time."
"Times have changed so much within the past year that I now fully know it is my time to say 'Thank you', but not goodbye. As many of you know, I can't stop serving and caring for children. With that, I will take this time and use it to reflect on the next chapter of my life and keep serving my community. Just know CAA has been the longest chapter of my life. All of you, the families, children, colleges, supervisors, support staff, and all whom I have come to know and love… will always be a part of who I am."
We express our deepest gratitude to Ms. Lois for 51 years of humble service.