Entrepreneurship & Small Business

OUR MISSION
The Greater Cincinnati Microenterprise Initiative (GCMI) strives to promote self-sufficiency and community economic development by stimulating and supporting entrepreneurship among and low- and moderate-income individuals.  GCMI is a collaborative partnership of the Community Action Agency and the United Way of Greater Cincinnati.  GCMI is a registered 501 (c) 3 non-profit organization established in 1998.
THE PROGRAM
GCMI provides entrepreneurial education, coaching, development and funding to help entrepreneurs start or expand a small business. We want to help you recognize business opportunities, set goals, and help you create a plan to take action in achieving those goals. Our entrepreneur discovery process will help you develop a viable business model, which is essential to running a successful company. We understand that finding the money to start a business can be difficult or confusing, and GCMI specializes in simplifying the lending process for our clients.  GCMI has partnered with the City of Cincinnati, the Small Business Association (SBA), and area banks, as well as operating its own proprietary Loan Fund to help our clients secure access to capital ranging from $500 to $250,000. Learn more here.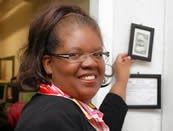 WHAT WE DO
Entrepreneurial Education and Entrepreneurial Mindset Training   
The GCMI provides Entrepreneurship Mindset skill development workshops and classes.  These sessions offer participants an opportunity to learn more about entrepreneurship, small business ownership, how an entrepreneur thinks, and how to develop an entrepreneural mindset.  It will help participants to view entrepreneurship as a possible career opportunity as well as introduce entrepreneurial skill sets that will influence their ability to make effective career decisions.  The program includes an overview of the eight crucial life lessons from successful entrepreneurs to examine some of the most commonly held myths about what it really takes to succeed as a business owner.  
Entrepreneurial Training Academy Sessions (ETA)
Our business training sessions allow the entrepreneur to develop and structure their business or accelerate the startup of their new concept. These sessions are designed to provide an interactive and in-depth entrepreneural experience taught by skilled instructors and industry professionals in areas of business development, marketing, financial planning, concept exploration, social media and information technology.
Business I – Business Basics and Validation
Business II – Business Development & Financial Planning
Ice House Entrepreneurship Education (IHEP)
Entrepreneurial Mindset Training
"Mi Negocio" ETA ( Business I taught in Spanish)
Entrepreneurial Camp (Youth E-Camp)
Business Plan Evaluations/Idea Development
We offer personalized services to help assess the potential of your concept. The world of business can be challenging to navigate without the right support. GCMI can evaluate what stage you are in your business and developing the right plan of action.
Validation Coaching/Technical Assistance
These are one-on-one consultation sessions that will engage and guide the student in evaluating their concept, examining their business financials, understand their consumer market and identify their competitors so they can better understand the best path forward for their business.
Access to Capital
To increase the creation and expansion of businesses operated by low- and moderate-income individuals, GCMI can help with access to traditional and conventional financing sources. We can help secure loans ranging from $500 to $250,000.
Cash Reigns Supreme
This training course is designed to teach the importance of financial statements and how they can be used to make better business decisions, before and after a loan is made. Participants learn how third parties, including lenders, evaluate financial statements to make their lending decisions.
Specific Topics Include:
The importance of maintaining current and accurate financial records, along with keeping financial records using QuickBooks software
Accounting terminology, balance sheets, profit and loss statements, and the importance of cash
Determining your company's cash needs, and keeping cash flow statements
Selecting an accountant and creating an accounting system
*This course is ideal for seasoned existing businesses, but start-ups also are welcome. The course includes both online and classroom sessions.
CLICK HERE TO ACCESS: GCMI Intake Application
---
GCM-I-Drive IDA Saving Program
Through a partnership with the Community Action Agency, GCMI has a vehicle purchase saving program called GCM-I-Drive IDA Program. The program provides an opportunity to save for the purchase of a vehicle for eligible low-to-moderate income participants, enabling them to obtain or keep employment. Participants will need to save up to $1,333 in an Individual Development Account (IDA). Once the targeted amount is obtained, the agency will match their savings at $2 dollars for every $1 dollar saved, totaling up to $4,000. Once the savings goal has been reached, the participant will be able to purchase a vehicle from a designated dealership.
CLICK HERE TO ACCESS: GCM-I-Drive Application
---
ELIGIBILITY
There are no eligibility requirements for GCMI programs. However, the programs operate on a sliding pay scale based upon total household members and household income.  To qualify for a GCMI training program, you must supply the following:
 Proof of total household income (wages, public assistance, unemployment assistance, Social Security, etc.)
Verification of the total number of members in the household (via Federal Tax Return)
HOW TO ENROLL
Call 513.569.4816, ext. 2412, to have an application mailed or emailed, or apply online at www.gcmi.org, or stop by in-person. Once your application is completed, call to schedule an interview with one of GCMI's business coaches. Check our online calendar for class times and updates.
Find Us On: