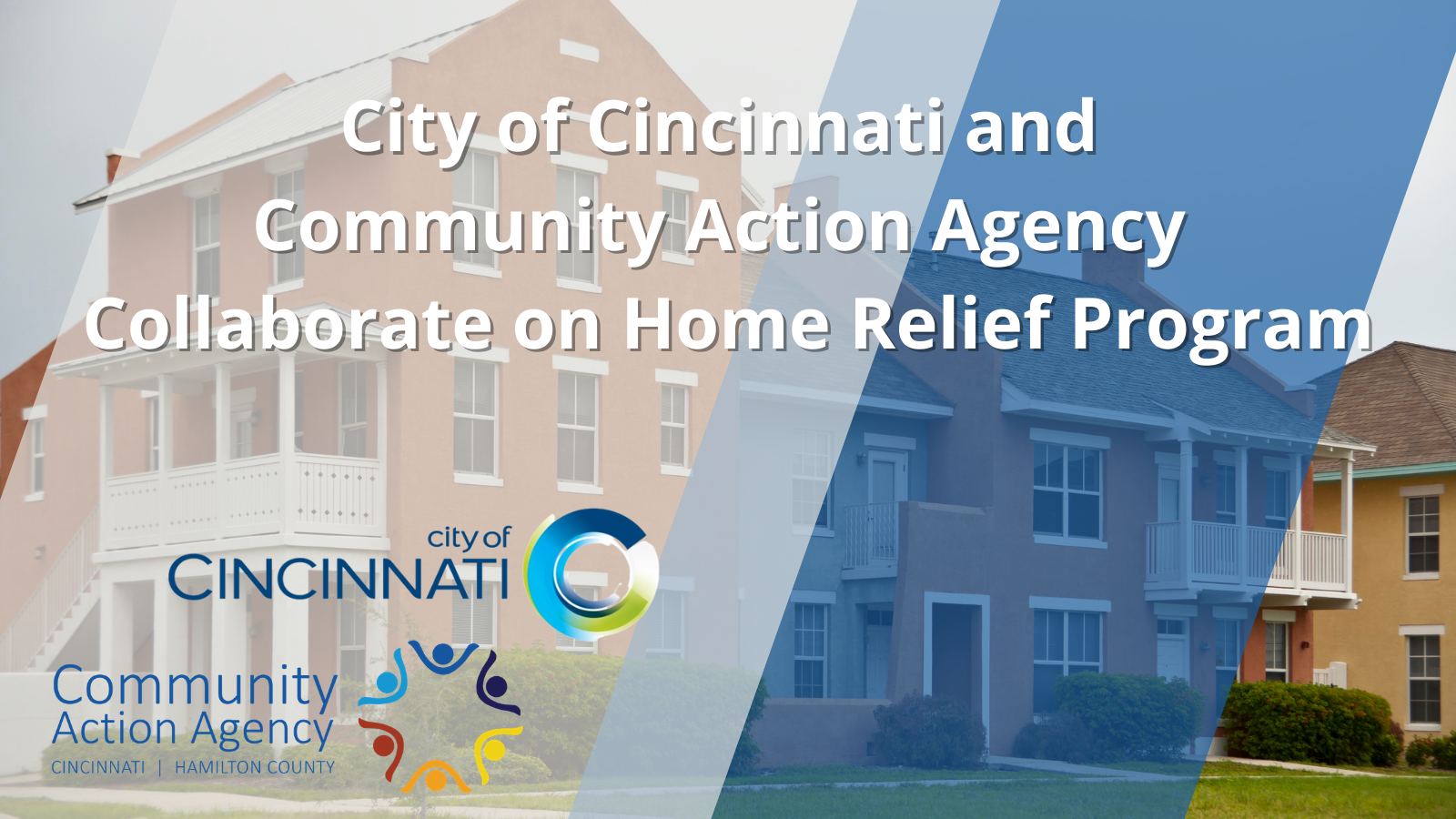 FOR IMMEDIATE RELEASE
Media Contact: Yasmin Chilton at yasmin.chilton@cincinnati-oh.gov or 937-536-9885.
CINCINNATI- The City of Cincinnati is proud to announce a new partnership with the Community Action Agency (CAA) intended to assist households who have fallen behind on rent and utility bills due to the COVID-19 pandemic. The Community Action Agency's Home Relief Fund is now available to assist families with bills ranging from rent, mortgage, and utilities including water, sewage, stormwater, and trash.
"Over the past year, we have seen how folks in our community have struggled because of the pandemic and resulting economic fallout," said Mark Lawson, President & CEO at the Community Action Agency. "At CAA, we have already helped stabilize thousands of families in their homes by paying their rent, mortgage, utility, and water bills. Our partnership with the City will allow us to continue to serve our community at an even greater capacity during a time we know that families need it most."
The Home Relief Program is being funded in part through federal treasury allocations made available to the City of Cincinnati due to the COVID-19 pandemic. The total sum amounts to nine million dollars.
"While vaccine distribution is helping get us closer to ending the health emergency of the pandemic, many of our households indeed continue to suffer the economic fallout caused by this crisis," said Cincinnati Mayor John Cranley. "The Community Action Agency has historically been in the position to help families in need of this type of assistance and has played a pivotal role in helping households sustain themselves through this pandemic. When we got word this federal funding would be made available, CAA was a natural pick to administer the funds." Greater Cincinnati Water Works, the Metropolitan Sewer District, and Stormwater Management utility bills are all eligible to be paid with this source of funding.
"Greater Cincinnati Water Works is proud to partner with the Community Action Agency to help provide financial assistance to households who have fallen behind on their utility bills," said Cathy B. Bailey, Executive Director of Greater Cincinnati Water Works. "We know how challenging the last year has been and the lasting effect the pandemic will have on so many families. Partnering to assist customers helps us provide solutions that positively impact our community."
"The coronavirus pandemic has created hardships for so many families and individuals across Hamilton County, including the loss of jobs and inability to pay their mortgage and rent or for essential utilities such as heat, water, sewage, and trash pickup," said Diana Christy, Director of the Metropolitan Sewer District of Greater Cincinnati (MSD). "MSD, along with the City of Cincinnati and partner utilities Greater Cincinnati Water Works (GCWW) and the City of Cincinnati's Stormwater Management Utility (SMU), are helping put federal COVID-19 relief dollars to work in our community by assisting residents who are behind on their sewer, drinking water and/or stormwater bills."
The Home Relief Program is intended to support Cincinnati residents. For eligibility, income guidelines, and qualifications, residents are encouraged to visit cincy-caa.org/CAA-home-relief, call 513-569-1840, (then select option #4), or email epa@cincy-caa.org.
###