CAA 56th Annual Luncheon: A Bridge to Opportunity
Thank you to all who were able to join us for our first-ever virtual 56th Annual Luncheon! If you missed our powerful conversation with Dr. Bernice King, you can watch it all right here! Congratulations to this year's award recipients. We wish to extend a big THANK YOU to all of our sponsors! It is with the support of our sponsors, volunteers and community leaders that CAA is able to do work that gives individuals and families hope. Your support also helps our work! If you would like to help, you can give by texting CAA56 TO 202-858-1233. Your donation will greatly impact and expand the services CAA can provide to your neighbors. Keep the conversation going on social media by using #bridge2opportunity!
Presenting Sponsor

---
We're bringing the 56th Annual Luncheon to you!
Join us for an uplifting event, all from the comforts of your own home or office. For the first time – anyone, anywhere can attend this event. Just grab your phone, computer, or any internet-enabled device.
This year's 56th Annual Luncheon will be co-hosted by WLWT Channel 5 Courtis Fuller, with special guest speaker Dr. Bernice A. King, minister, attorney, and daughter of Dr. Martin Luther King Jr.
CAA's theme this year is A Bridge to Opportunity. This year, we have had to come together in ways that we never envisioned to remain strong as a community. We are bridging partnerships with different agencies to extend our reach. We are providing a bridge for those seeking help during this pandemic, who have never had to seek help before. We've built a bridge to ensure that our children are not left behind as well as a bridge to support parents, providing them with the tools they need to thrive.
---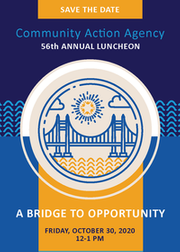 Friday, October 30, 2020
12:00 pm - 1:00 pm EST
Virtual Event
Join Us! No Tickets Necessary. Register for FREE!
You can attend this virtual event on Facebook or YouTube, and it is absolutely free!
Are you interested in helping us Build a Bridge to Opportunities for your neighbors? View sponsorship options available to you.
---
COMMUNITY ACTION AGENCY IS PROUD TO AWARD COMMUNITY MEMBERS AND ORGANIZATIONS FOR THEIR COMMITMENT TO IMPROVING OUR COMMUNITY.
Theodore M. Berry Award Honoree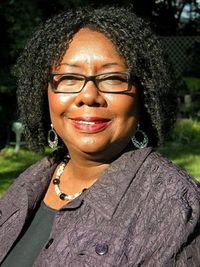 Lydia Morgan, a civil rights activist, initiated the first Cincinnati Juneteenth celebration in 1988 and organized the festival ever since. Among her hopes is that people don't forget the history of Kennedy Heights. A healthy community thrives on people connecting with each other.
Bridge Builder Award Recipients
---
Thank you to our 56th Annual Luncheon Sponsors. Your support helps us build this bridge for our community.