CAA 57th Annual Luncheon: Advancing Equity, Building Resilience, Sustaining Hope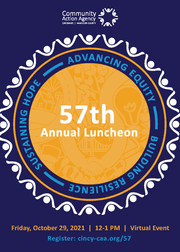 Friday, October 29, 2021
12:00 pm - 1:00 pm EST
Virtual Event
Attend virtually via our Facebook Livestream or YouTube! We thank you for your continued support, and look forward to seeing you Friday, October 29!
---
We're bringing the 57th Annual Luncheon to you!
This year's Annual Luncheon will be a VIRTUAL event. Attendees can choose to register for free or purchase a ticket and receive a to-go catered lunch and CAA gift bag. Just grab your phone, computer, or any internet-enabled device!
CAA's theme this year is Advancing Equity, Building Resilience, Sustaining Hope. This year we will honor individuals, families and our community through sharing their stories of perseverance and courage during this disruptive and difficult pandemic year. 
This year's 57th Annual Luncheon will be co-hosted by WLWT Channel 5 Courtis Fuller, with special guest speaker Lucretia Bowman, Founder and Director of Having The Courage To Change Ministry.
Presenting Sponsor
---

Are you interested in helping us Build a Bridge to Opportunities for your neighbors? View sponsorship options available to you.
---
COMMUNITY ACTION AGENCY IS PROUD TO AWARD COMMUNITY MEMBERS AND ORGANIZATIONS FOR THEIR COMMITMENT TO IMPROVING OUR COMMUNITY.
---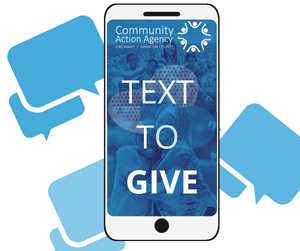 Help us honor 2020-2021 Bridge Builders, community partners and clients who are working together to invigorate efforts to build resilience, sustain hope and advance equity in our community. 
If you would like to help, you can give by texting CAA57 TO 202-858-1233. Your donation will greatly impact and expand the services CAA can provide to your neighbors.
Keep the conversation going on social media by using one of our event hashtags: #caasustaininghope #caabuildingresilience #caaadvancinghope #caa57!
---
Thank you to our 57th Annual Luncheon Sponsors! Your support helps us build this bridge for our community.