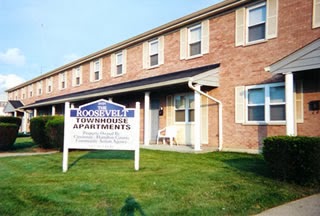 Since 1995, CAA has operated the Roosevelt Townhouse Apartments in Springfield Township.  The eight-unit complex serves as a temporary home (average stay of three years) for individuals and families who are transitioning from homelessness to self-sufficiency.
Residents participate in monthly training sessions in which they learn about financial literacy, parenting skills and how to develop a more positive outlook on life. 

Residents also receive assistance through CAA's many other programs, including:
Referrals to obtain resources such as food and clothing through our Supportive Services program
Receiving job readiness training, job referrals and placement, career counseling, job and retention coaching through our Workforce Development Program.  
Enrolling preschool age children in Head Start 
Helping any young adults in the family become involved in our Youth Services programs
Residents of Roosevelt Townhouse Apartments have been able to:
Secure employment and find permanent housing
Continue an education
Earn a four-year or two-year degree
Purchase a home
To be eligible families must:
Earn an income at or below 125 percent of the Federal Poverty Guideline
Live within Hamilton County
Be homeless
Have a Head Start-age child/children (2-4 years old)
Have structured goals, such as seeking to improve education or employment skills
For more information on CAA's transitional housing program, email Kelly LaFrankie at klafrankie@cincy-caa.org or call 513.569.1840, ext. 1464.