Blueprint for Success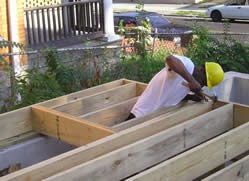 CAA's Blueprint for Success program provides young adults with classroom instruction and hands-on training in the construction field. Blueprint participants receive intensive supportive services to address barriers to self-sufficiency including:
Case management
Assistance in finding part-time employment
Assistance with child care
Assistance with child support matters
Financial assistance for emergency rent or utility payments
Assistance finding suitable housing
Individual or family counseling with an outside professional
CAA also serves as an advocate for Blueprint participants dealing with legal matters.  
Upon graduation from Blueprint, participants who wish to enter the construction industry are guaranteed the opportunity to interview for a job in the field.  Other participants can receive assistance applying to higher education programs and pursuing other careers.
The Blueprint for Success program partners with numerous community organizations and businesses, including:
City of Cincinnati
Homesteading and Urban Rehabilitation Corporation, Inc.
Allied Construction Industry, Inc.
Home Depot
Cincinnati State Technical & Community College
Cincinnati Public Schools
Great Oaks
Greater Cincinnati Microenterprise Initiative, Inc. (GCMI)
Messer Construction
Triversity, Inc.
Sigma Capital, Inc.
Eligibility:
To be eligible for the Blueprint program, individuals must:
Be between 18 and 30 years of age
Have a high school diploma/GED
Live within the City of Cincinnati
For more information on Blueprint for Success, contact Career & Job Services by email or by phone at 513.569.1840, ext. 1466.
YouthBuild Construction Training
YouthBuild is a construction training program serving at-risk young men and women from low-income communities.  The goal of the program is to assist youth in overcoming negative attitudes and obtain a self-sufficient life. CAA's YouthBuild program integrates education, leadership development, counseling, construction and other vocational training skills. Participants work toward their GED while learning job skills and serving their communities by building affordable housing.  Youth also have the opportunity to earn a national certification in construction. 
The YouthBuild program provides: 
GED classes
Personal mentoring
A peer support group
Mental toughness training
Participants also receive supportive services, such as:
Life skills training
Job skills training
Referral services
Childcare 
Eligibility:
To be eligible for the YouthBuild program, individuals must: 
Be between the ages of 16 and 24
Live within Hamilton County
Have dropped out of high school
Be unemployed
For more information on the YouthBuild Construction Training Program, email Career & Job Services or call 513.569.1840, ext.1466.

YouthBuild Construction Training Program is made possible by: